In an article in The Observer Nigel introduces his Black Pudding Omlette Recipe as follows:
Frittata of black pudding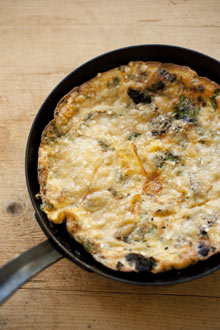 If black pudding is not your thing, then any well-seasoned sausage might be worth a try. This is light lunch in our house, with one omelette serving two and a decent salad on the side. Fennel and apple with a clean-tasting dressing of oil, cider vinegar and a few chives worked very nicely.
Serves 1-2
butter a large knob
black pudding 200g
eggs 3
parsley 2 heaped tbsp, roughly chopped
parmesan 50g, shavedv
Melt the butter in a frying pan. Remove the skin from the black pudding and crumble into the hot butter, leaving it to colour to a deep golden brown.
Break the eggs into a small bowl and mix them lightly with a fork. Roughly chop the parsley then stir into the eggs and pour over the cooked crumbled pudding. Add the parmesan. Heat an overhead grill. Let it cook over a relatively low heat till the bottom has formed a golden crust. The centre will probably still be wobbly. Lift the pan from the heat and slip it under the grill till the eggs have set and the top is lightly coloured. Cut into wedges and serve.
We often have omlettes with salad for tea in our house, as it's such a quick and wholesome family meal and the kids love them.  Will definately give this one a go for a tasty change, especially like the idea of the apple and fennel along side.
Thanks again Nigel for giving us new ways to use our lovely black puddings.
to read the whole article click here.