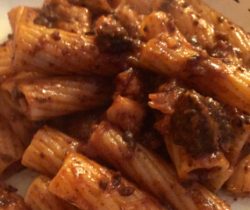 Ingredients
---
2 tbsps Olive oil
4 Italian fresh pork sausages, meat removed from skins and crumbled (if you can't get them easily – just use good quality pork sausages)
100 gm of a good black pudding sliced
1 small  onion peeled and chopped.
Good pinch of dried red chillies
2 bay leaves
Small handful of fresh rosemary or tbsp of dried
Half a glass of red wine
500 gm passata
Sea salt and freshly ground black pepper
500 gm rigatoni
Dressing
---
Parmesan to serve
Serves
---
Method
---
We just found this amazing black pudding and sausage pasta recipe by  From Alfredo's with Love, a very satisfying pasta and easy to make.  We have often found that black pudding goes great with pasta.  Give it a go…
Heat the oil in a large pan, and fry the sausage meat, stirring and breaking up the pieces.
After the juice from the meat has evaporated and the fat begins to run, add the onion, garlic, chilli, rosemary bay leaves and a little grind of sea salt and black pepper.
Cook gently for almost 30 mins until the onions are browning. Add the black pudding. Stir for about five minutes to let the black pudding cook and crumble slightly with the sausage mixture.
Pour in the wine, increase the heat and cook until the wine evaporates. Now add the passata, lower the heat, and simmer gently for about 30 minutes.
Cook the pasta and  drain well. Add the pasta back to its pan and stir in the sauce mix then serve.
To see more ways to use our amazing black pudding and other products such as white pudding, chilli black pudding, vegan black pudding, tripe and many more visit our recipes page